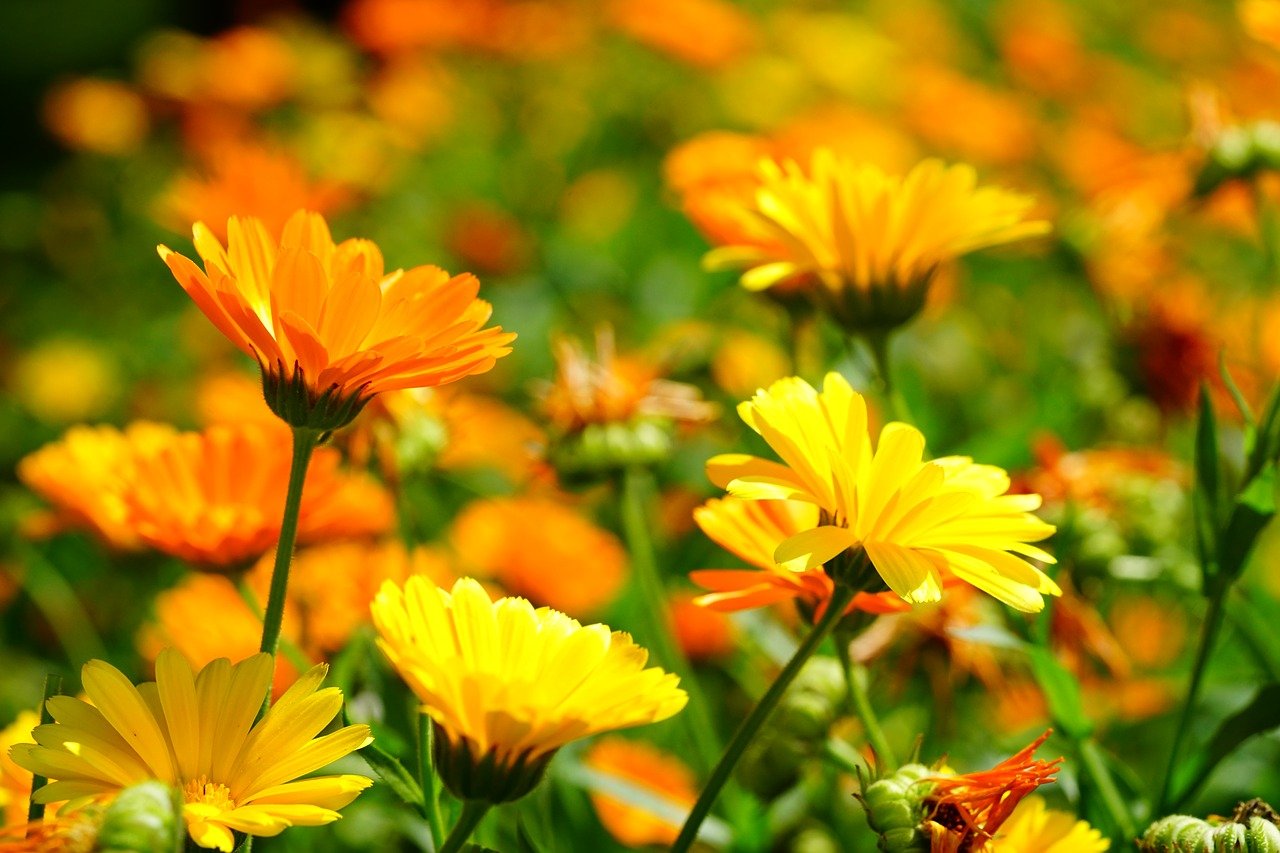 The Powerful Skin Benefits of Calendula Flower
We see Calendula as a star ingredient in a multitude of skincare and health products today, such as toners, moisturizers, cleansers, and even supplements and teas you can take.
It's also in our Botanical Recovery Serum, but what is Calendula? And how exactly does calendula oil benefit the skin?
How Calendula flower benefits the skin
What is Calendula?
Calendula officinalis L., commonly known as pot marigold, is a plant species native to central, Eastern, and Southern Europe. With its widely recognized yellow-gold petals, it has long been used in Ayurveda and traditional Chinese medicine for its anti-inflammatory and other medicinal properties. The Calendula flower has been traditionally used in compresses for poorly healing wounds, bruises, rashes, boils and dermatitis. The flower and leaves of the plant can be used as a compress, in a tincture, or can be further processed into an extract or an ointment for topical use.
After reviewing numerous clinical and pharmacological studies, it has been found that Calendula oil and extracts have an array of skin benefits due to its high level of antioxidants and active compounds.
What are the skin benefits to using Calendula?
1. Calendula has anti-inflammatory properties
The calendula flower contains active compounds such as triterpene saponins (oleanolic acid glycosides), triterpene alcohols (α-, β-amyrins, faradiol), and flavonoids (quercetin and isorhamnetin) (Arora, 2013). Studies have shown that it is due to the flavonoids and triterpene derivatives present in calendula petals that exhibit the anti-inflammatory properties (Muley et al., 2009).
Flavonoids and triterpenoids are phytochemical compounds that help with inflammation due to their rich antioxidant activity, meaning that they actively fight off free radicals and toxins that cause oxidative stress on the body. Flavonoids and triterpenoids also do so by preventing the release of histamines, thus decreasing the symptoms your body experiences (redness, itchiness, dryness, etc.) when it has an inflammatory immune response from a trigger in the environment (Eghdampour et al., 2013). These triggers can range from allergens to dust or toxins. Due to the high levels of antioxidants, Calendula benefits the skin due to its calming, anti-inflammatory properties.
2. Calendula has wound-healing properties
Calendula has also long been used for its wound and ulcer healing properties. There are reports that the Calendula plant was employed in the civil war to treat wounds and as a remedy for measles, smallpox and jaundice (Page, 1998). Furthermore, a topical application of infusion of flowers is used as antifungal and antiseptic in wounds, marks, freckles, sprain and conjunctivitis. To treat and heal the affected area, calendula oil or extract can be applied as a tincture, compress, or as an ointment.
In a clinical study done by the University of Rome, women with surgical wounds found that they healed 20% faster when a mixture of St. John's Wort and Calendula oil was applied in comparison to the control group (Lavagna et al., 2001).
The faster rate of wound-healing may be from the increased amount of collagen and protein formation (CTGF and α‐SMA) that Calendula promoties, all of which are necessary for skin health and epithelial regeneration (Dinda, 2016).
3. Calendula has antimicrobial properties
Another reason why Calendula is effective at wound-healing is that it has antimicrobial properties, helping to inhibit bacterial growth on the skin while it heals and regenerates.
A study found that essential oil of calendula flowers as well as a hydroalcoholic extract of the flower was able to inhibit the growth of Bacillus subtilis, Escherichia coli, Staphylococcus aureus, Pseudomonas aeruginosa and Candida albicans (Janssen et al., 1986). It is the oxygenated terpenes present in the essential oil that appear to be responsible for the antimicrobial activity (Gracza, 1987).
4. Calendula is extremely hydrating
Calendula is also great for skin health because it is intensely hydrating. The high levels of amino acids, carotenoids, saponins, glycosides of sesquiterpenes, flavonoids and triterpenes are the active compounds that make calendula hydrating for the skin (Akhtar et al, 2011).
Studies have shown that there is an increased dermal hydration once a cream containing calendula oil was applied. In one clinical study, breast cancer patients had undergone radiation therapy, which commonly results in acute dermatitis. The results of the study showed that calendula ointment was more successful in preventing mild to severe radiation-induced dermatitis as opposed to trolamine, a commonly used corticosteroid (Pommier et al., 2004).
The increased dermal moisture from continuous use assists with repairing the skin by reducing Transepidermal Water Loss, and restoring the lipid barrier's ability to attract, hold and redistribute water (Akhtar et al, 2011).  Retaining dermal moisture is important for skin repair and health as it inhibits collagen degradation, prevents skin damage,  and delays the signs of aging.
5. Not for pregnant women or children
Ingesting calendula may impact your hormone levels or even induce menstruation. If you are pregnant, we recommend avoiding calendula in your skincare or ingesting any other forms in your daily routine to avoid any chances of miscarriage.
If you have any concerns about the addition of calendula in your skincare routine, we alway recommend consulting your general practitioner or dermatologist.
Conclusion
With numerous clinical and pharmacological studies done on the benefits of Calendula, this orangey-yellow plant has shown a multitude of medicinal properties that benefit the skin and overall health. Its anti-inflammatory, anti-microbial, and moisturizing properties, all of which are due to the high amount of active compounds naturally found in its leaves and petals. Further studies have also shown that Calendula also exhibits anti-HIV, anti-fungal, and anti-tumor properties (Arora, 2013).
Calendula petals can be used in a variety of treatments on the skin and are commonly found in many different skincare formulations today, such as creams, ointments, oils, toners or even serums. For internal health benefits, it can also be ingested as a tea.
You can find organic calendula flower extract in our Botanical Recovery Serum, an important ingredient in our formula that we use to hydrate, brighten, and firm the skin.
References
Akhtar N., Zaman S. U., Khan B. A., et al. Evaluation of various functional skin parameters using a topical cream of Calendula officinalis extract. African Journal of Pharmacy and Pharmacology. 2011;5(2):199–206.
Alnuqaydan, A. M., Lenehan, C. E., Hughes, R. R., & Sanderson, B. J. (2015). Extracts from Calendula officinalis offer in vitro protection against H2 O2 induced oxidative stress cell killing of human skin cells. Phytotherapy research : PTR, 29(1), 120–124. https://doi.org/10.1002/ptr.5236
Arora, Disha et al. "A review on phytochemistry and ethnopharmacological aspects of genus Calendula." Pharmacognosy reviews vol. 7,14 (2013): 179-87. doi:10.4103/0973-7847.120520
Dawid-Pać R. (2013). Medicinal plants used in treatment of inflammatory skin diseases. Postepy dermatologii i alergologii, 30(3), 170–177. https://doi.org/10.5114/pdia.2013.35620
EMEA. European Medicines Agency. London: Calendula officinalis L., Flos; 2008.
Dinda, M., Mazumdar, S., Das, S., Ganguly, D., Dasgupta, U. B., Dutta, A., Jana, K., and Karmakar, P. (2016) The Water Fraction of Calendula officinalis Hydroethanol Extract Stimulates In Vitro and In Vivo Proliferation of Dermal Fibroblasts in Wound Healing. Phytother. Res., 30: 1696– 1707. doi: 10.1002/ptr.5678.
Eghdampour, F., Jahdie, F., Kheyrkhah, M., Taghizadeh, M., Naghizadeh, S., & Hagani, H. (2013). The Impact of Aloe vera and Calendula on Perineal Healing after Episiotomy in Primiparous Women: A Randomized Clinical Trial. Journal of caring sciences, 2(4), 279–286. https://doi.org/10.5681/jcs.2013.033
ESCOP Monographs. Calendulae flos. 2nd ed. New York: Thieme; 2003. European Scientific Cooperative on Phytotherapy; pp. 58–63.
Gracza L. Oxygen-containing terpene derivatives from Calendula officinalis. Planta Medica, 1987, 53:227
Janssen AM et al. Screening for antimicrobial activity of some essential oils by the agar overlay technique. Pharmaceutisch Weekblad, 1986, 8:289–292.
Lavagna SM, Secci D, Chimenti P, Bonsignore L, Ottaviani A, Bizzarri B. Efficacy of Hypericum and Calendula oils in the epithelial reconstruction of surgical wounds in childbirth with caesarean section. Farmaco. 2001;56:451–3.
Muley, B., Khadabadi, S., & Banarase, N. (2009). Phytochemical Constituents and Pharmacological Activities of Calendula officinalis Linn (Asteraceae): A Review. Tropical Journal of Pharmaceutical Research, 8(5). https://doi.org/10.4314/tjpr.v8i5.48090
Nicolaus, C., Junghanns, S., Hartmann, A., Murillo, R., Ganzera, M., & Merfort, I. (2017). In vitro studies to evaluate the wound healing properties of Calendula officinalis extracts. Journal of ethnopharmacology, 196, 94–103. https://doi.org/10.1016/j.jep.2016.12.006
Page L. Carmel Valley, California, United States of America: Healthy Healing Publications; 1998. Detoxification: All You Need to Know to Recharge, Renew and Rejuvenate Your Body, Mind and Spirit; pp. 191–2.
Pommier P, Gomez F, Sunyach MP, D'Hombres A, Carrie C, Montbarbon X. Phase III randomized trial of Calendula officinalis compared with trolamine for the prevention of acute dermatitis during irradiation for breast cancer. J Clin Oncol. 2004;22:1447–53.
WHO Monographs on selected medicinal plants; Flos Calendulae; Geneva: World Health Organization; 2002. pp. 35–44