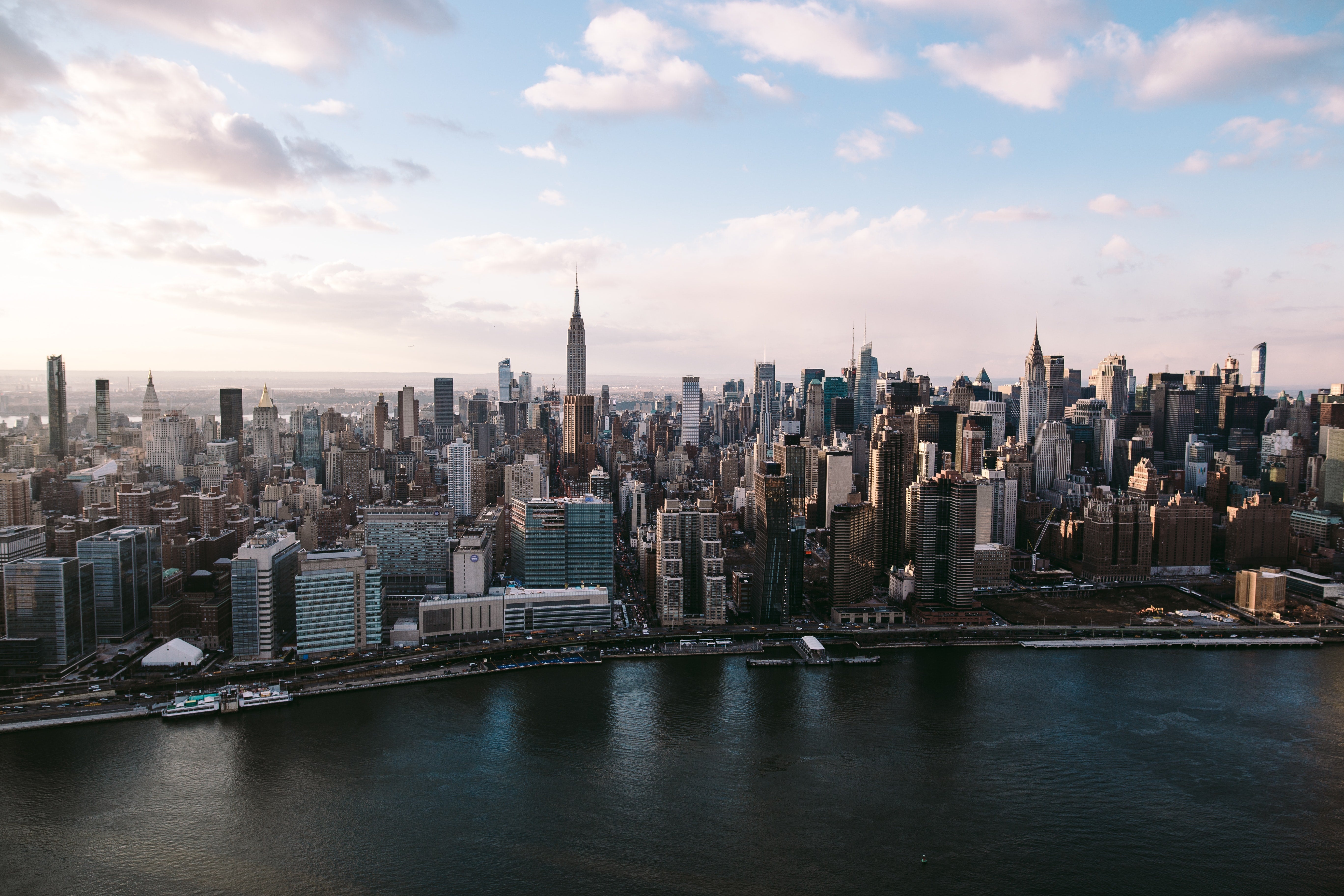 New York Skincare Guide: Brands, Stores & Spas
When we think about New York, its fashion or impressive architecture might come to mind. But, It's also one of the best cities in the United States for skincare, offering a plethora of options.
As a result of the busy city life and air pollutants, however, New York was rated in this study to be the second-highest area in the country prone to wrinkles.
This makes self care incredibly important, as we need to keep our skin nourished and healthy.
New York's quality local skincare brands and spas
Want to know what New York offers in terms of skincare brands, spas, and stores? This list outlines some of the best, high-quality options with an emphasis on clean beauty.
Brands
An array of high-quality skincare brands have come out of New York, some you've probably even heard of if you don't live here.
Here are some notable brands we recommend checking out:
Founded by a husband and wife duo in 2007, DS & Durga is a niche perfume house that also create candles and bodycare. While DS (David) creates all the products in house, Durga (Kavi) handles all of the respective design components.
Created as works of art, each product coined as an 'authentic study of real-world projects', with much of DS' personal touches, passions, and artistic interpretations woven into each product. With interesting scent names such as 'Burning Barbershop', 'Crystal Pistil', and 'Radio Bombay', we encourage you to look up the inspiration behind them!
Founded by a father and son duo, this brand was created when Francesco Clark had a pool diving accident and became paralyzed from the neck down. With skin irritations and ailments now deriving from his condition, Francesco and his father, a homeopathic doctor, set forth to finding the perfect solution. 
After 5 years and 78 formulations, the Clark team found their star ingredient: Jasmine Absolute. Jasmine Absolute remains the core ingredient of all their products, due to its anti-bacterial, antimicrobial and anti-inflammatory properties. It is due to this proprietary ingredient in the formulations, that revitalized Francesco's skin health and gave him the confidence to live his best life.
A fan favourite is their signature, award-winning Smoothing Marine Cream, formulated with dehydrated algae microspheres and of course, Jasmine Absolute to soothe, nourish, and hydrate the skin. 
Based out of Brooklyn, this Black-owned apothecary was founded by power duo Holly McWhorter and Bjarke Ballisager. The idea first originated with Holly experimenting with producing natural products for her sensitive skin. Not only is their packaging super cute and a joy to have on your bathroom shelf, all of Plant Apothecary's products are USDA certified organic, vegan, and cruelty-free.
We recommend trying the CALM DOWN organic body wash ($20 USD), with ginger and lavender essential oils to help you relax and wind down after a long day of work. This all-natural gel is made of only eight simple ingredients and is completely free of parabens, SLS, petroleum, silicones and harsh, mysterious chemicals, making it gentle enough for those with sensitive skin.
Inspired by a backpacking trip in South America, Anit Hora created the brand as a way to introduce traditional Ayurvedic medicine to the West. With the goal of creating an urban zen or herself, Anit became a certified holistic esthetician and herbalist.
This woman-owned skincare brand blends traditional Ayurveda and Western herbalism to create unique, natural formulations. MS Skincare takes transparency seriously and has an extensive ingredients glossary on their website to explain the science and purpose of every ingredient they use.
Stores
Well-curated skincare stores can be found tucked away all over the city.
We recommend checking these ones out:
Described as a "Farmer's Market, but for Your Face" (by Melissa Kenny), this spa and wellness shop hybrid was founded by Kerrilynn Pamer and Cindy DiPrima Morisse in 2015. Previously located in West Village, this store focuses on their mantra that beauty is wellness, and wellness is beauty.
With a focus on clean, natural ingredients, this shop stocks now stocks over 150 brands online, from skincare to body care products, and even their own line of adaptogens and dietary supplements.
A unique product CAP Beauty makes is The Light Ray ($42 USD) in collaboration with Lauren Haynes, the herbalist behind Wooden Spoon Herbs, a tincture with Gotu Kola to moisten, Nettle for B Vitamins, Rosehip for Vitamin C, and Schisandra as an adaptogen.
Referred to as the "Whole Foods of clean beauty" (Dobras), Credo Beauty has become one of the world's largest retailers of indie, cruelty-free, and non-toxic beauty products. 
With the mission of having healthier and safer alternatives for beauty products, Credo Beauty has established strict guidelines and standards for products that they put on their shelves. They even take it one step further, scrutinizing suppliers and requiring brands they work with to be transparent about ingredients sourcing to their consumers.
In addition to stringent ingredient guidelines, there is also the Credo Clean Standard and Sustainable Packaging Guidelines, which ensures that all brands avoid any packaging that would end up in landfill, along with maintaining ethical labor practices.
If you're wanting to support brands that have your skin and the environment's best interests, this could be the retailer for you.
Onda Beauty is a little escape from the hustle and bustle of the city. Founders Larissa Thomson, Sarah Bryden-Brown, and Naomi Watts, sought to join the clean beauty movement after decades of being in the beauty industry.
This team of three tests everything themselves before it's stocked on the shelves, ensuring that each and every product sold by ONDA is loved and truly works. In addition to clean beauty products, ONDA also offers treatments, meditation classes, and even sound bath events!
This is the go-to spot for our plant-based readers out there! At this local shop in East Village you'll find raw, organic, vegan beauty products, groceries, and zero-waste home goods. Coined the "superfood superstore", those on a wellness or zero-waste journey can find all of their necessities here.
They also have their own line of body and beauty products, all of which are made with natural, organic ingredients and are incredibly affordable!
Founder Angela Kim started Savor Beauty by creating a unique line of products that combine Korean beauty with natural ingredients. To Angela, "Savor Beauty encompasses the notion of nourishing yourself in order to succeed in life."
Wanting to combine slow, ritualistic Korean skincare routines with Western time-efficiency, Angela created powerful multi-tasking products along with a simple numbering system for layering. In its essence, Savor Beauty simplifies Korean skincare routines for the modern woman and lifestyle.
This Brooklyn clean beauty shop is a local favourite, with its carefully curated line of Indie brands, beautiful store design, and . With their floor to ceiling mirrors, ample natural lighting, and products separated by use and skin type (as opposed to brand),  this shop stands out from all the rest by being designed first and foremost, for its customers.
To make shopping safe, Shen sanitizes the store often, with UV lights every night and also has a state-of-the-art air filtration HVAC system in place to sanitize the air.
Spas & clinics
To escape the hustle-and-bustle of the city, spas and clinics can offer rejuvenating experiences to help combat stress and skin issues.
Check out these top-rated options:
Silver Mirror was founded due to co-founder Cindy having her own skin frustrations, despite using good beauty products, getting expensive facials, and going to the dermatologist. She found that she was missing frequent treatments in the form of fast and affordable facials – the kind she used to enjoy on a weekly basis in Korea.
As the founder of Peach and Lily, Cindy brings extensive skincare knowledge from the Asian Beauty realm, along with her co-founder Matt.
What makes Silver Mirror stand out is that they partner with a different non-profit each season to direct a portion of proceeds of their Seasonal Facials.This season they are offering the Seasonal Defense facial, with a portion of the proceeds going to The NAACP Legal Defense and Educational Fund. The NAACP LDF is a non-profit organization and is America's top legal firm fighting for racial justice and equality for all Americans.
Popular with the locals in Brooklyn, this Black-owned spa has been a part of the community since 2005. Owner Marsha says that the spa's goal is to: "Bring about homeostasis and balance in and to our clients' lives. Witnessing these changes keeps my passion for what I do constantly churning, keeps me grounded and humbled."
Known for its exceptional customer service and relaxing ambience, many of its customers love celebrating anniversaries with a couples package.
Currently, every second Tuesday of every month is Cynergy Spa Buddy Day! Previous customers of the spa that would like to introduce a friend can book a spa package for a friend and get the same package for half the price. And if you haven't been, previous customer reviews say to "just go"!
Founded in 2015, Lisa Goodman sought to bring something different to the American market with GoodSkin Medical Spa. As a former physician's assistant to celebrity-dermatologist Ava Shamban and apprentice to renowned Paris-based plastic surgeons Dr. Pierre-Alain Mayeux and Dr. Claude Ahaharoni, Lisa wanted to bring the European approach.
This European-style medispa focuses on consultative and custom-tailored approaches to beauty as opposed to following popular, consumer-driven beauty trends.
GoodSkin is known for their trademark anti-aging approach called the Untouched Look, which starts with a personal expert diagnosis, and followed up with recommended treatments and services. The spa also offers Healthy Aging plans that assist each client with their journey of embracing their individual facial structure, tones, and beauty. The goal of GoodSkin is to make you the best version of yourself, and not anyone else.
With numerous locations in Manhattan, Heyday Spa was designed to be accessible, affordable, and educational. Treatments start at $105 USD, but clients still get quality, personalized high-tech facials in 50-minute appointments.
In addition to their spa services, they have launched one-on-one virtual skincare consultations and showcase at-home facial techniques and skincare tips on their Instagram. Heyday's goal is to give you skincare guidance both in and out of the spa, so expect a follow-up email after your appointment!
As a Korean immigrant who came to New York in the 90s, Jin soon always had an entrepreneurial spirit. As a self-taught nail artist, she gained the nickname "Bicycle Jin" by doing house calls with her bicycle. In 1999, she opened her own salon, now named one of the best salons in NYC.
A renowned editorial and celebrity manicurist, Jin soon was crowned the "Nail Guru" by The New York Times Magazine, due to her ability to pinpoint current and emerging trends and translate them into the art of nail design.
One of her proudest achievements is her own Jin Soon nail polish line, which is 9/10-free and formulated without harsh chemicals such as  Formaldehyde, Toluene, DBP, Formaldehyde resin, Camphor, Xylene, Ethyl Tosylamide, Triphenyl phosphate, Parabens, and Lead. It is also a vegan formula, designed to dry fast and be chip resistant.