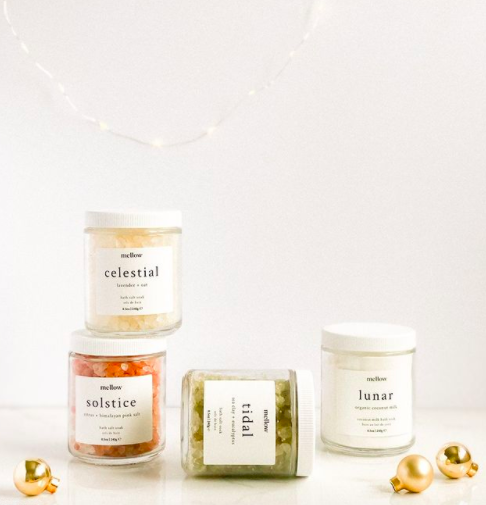 2021 Holiday Gift Guide from Team Loa Skin
Have you started your Christmas shopping yet? Or are you a last minute shopper like us? Not to worry if you are, with the holidays coming around, we thought we'd share 7 of our favourite items as gift ideas for your friends and family.
In our blog, there's something for everyone, and we tell you why they're our faves and why your close ones (and you!) are going to love these . We know that the holidays are always hectic, and we're here to make things a little easier for you.
1. For the friend who has everything.
What more else could they secretly need? They're the type of friend who doesn't wait around for people to get them things. They see it, they want it, they buy it, they've got it. So what gives? In this case - who gives...what?
Well, we've got just the thing for them! If they have everything, they probably have dry skin too. Dry skin affects everyone, especially in the winter. With a body scrub and some hydrating body butter, their buttery smooth skin is going to love you for it! Mellow Bath and Body's Lunar Naked Coconut Body Scrub is a great way to cleanse, hydrate, and exfoliate the body all at once. Trust me, this is actually one of the good 3-in-1s out there (not the Head and Shoulders 3-in-1 though, stay away from that)!
2. For the friend who loves to host. 
We all have that friend who always loves to host and somehow always manages to make it look effortless. They always churn out something delicious, and their kitchen is always fully stocked. Help them with a sustainable choice with the silicone oven-safe baking trays from RUUM, which make it easy to divy-up that coveted real-estate on your baking tray and reduce the usage of foil, parchment, and plastic wrap. To make things even better, they also come with lids (genius, right?) for easy storage.
3. For the friend who always smells good.
This may sound a little creepy but you know exactly who I'm talking about! They always have this signature scent that they pull off, and for some reason even when you buy the same fragrance as them, it doesn't smell the same on you. If you're not brave enough to contribute to their elegantly curated fragrance collection, what about a home fragrance? HEIM Goods has a beautiful, aesthetically pleasing collection of home fragrances to transport all the necessary cozy vibes!
4. For the friend who loves photography.
Have that friend who's snapping a photo wherever they go? Do they have that iconic photo of the East Van sign somewhere? How about we suggest something a little better. One of our favourite Vancouver photographers, Shelan Markus from City and She, captures dreamy photos that transports its audiences to a whole new world. In the latest City and Sea collection, Shelan captures unique, yet iconic photos of Vancouver through her dreamy lens.
"I've never seen Vancouver captured like this. These are places of my childhood, yet they're captured in a way I've never seen before. And La Casa Gelato? Come on, it's iconic." - Christina
5. For that family member you don't know very well.
You seriously can't go wrong with a candle. They're my all-time no-fail gift. One of my favourite all-time candle brands that would please any in-law is Homecoming Candles. For a fun, holiday crowd-pleaser, I don't think you could go wrong with the Winter Mint + Vanilla Bean scent, which has delicious notes of: white chocolate, peppermint stick, fir tree, and cream.
"Homecoming Candles has been a long-time favourite of mine. The scents are unique, dreamy, and there's a right one for every mood I'm ever in. For an extra special person, the ceramic candle is honestly perfect." - Christina
6. For the unique friend who doesn't like coffee!
Don't we all have that one weird friend who doesn't drink coffee anymore because they don't like the taste? Or do they find that coffee drives them (and their anxiety) up the walls? Okay, that actually makes sense and isn't weird at all. If the go-go juice isn't for your friend anymore, try gifting some beautiful competition-grade matcha from Whisk Premium Matcha.
"I need to have my matcha every day. I can't start my day without it. Not surprisingly, my favourite from them is the Premium Everyday Matcha." - Spencer
7. For the friend who loves to travel
With travelling ramping back up (especially for the holidays), we all want to make sure we're feeling our best when we step on and off the plane. Here's a really unique gift to help your body adjust and fight against inflammation, fatigue, and even cosmic radiation (who knew?) Jet lag who? We don't know her. 
"Flightfud is a must for me every time I fly. It keeps me hydrated, keeps the bloat at bay, and really helps my body adjust to the new destination." - Tyler