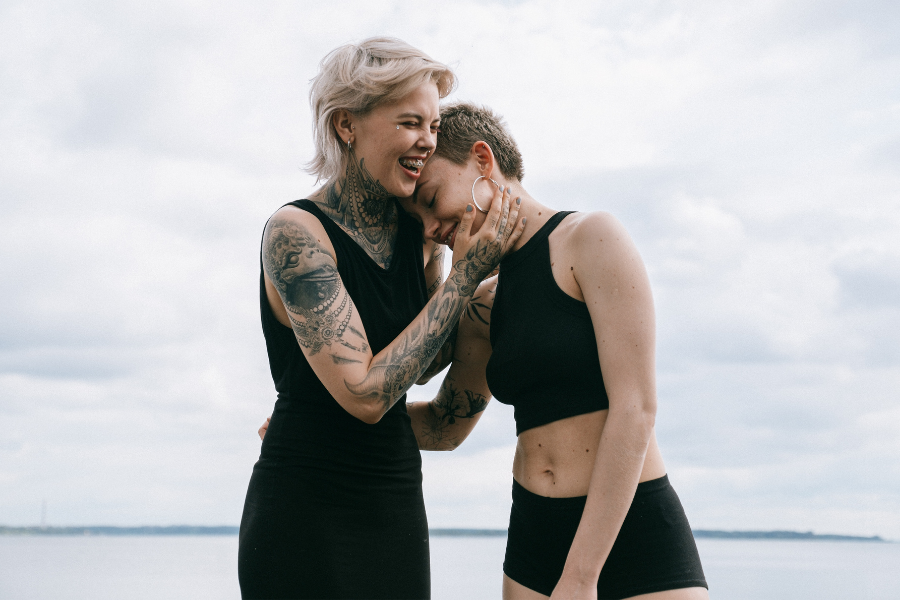 4 Tips for Reconnecting With Your Partner
It's the middle of winter and also we're in the second (Third? Fourth? We've lost count.) wave of the pandemic, I'm sure that a lot of us currently feel like we're just going through the motions at the moment. In these times, partners can become roommates, family members can become distant friends, and friends can become strangers. 
We find February to be a month about reconnecting. With the Lunar New Year, Valentine's Day, and also Family Day (if you're in BC, Canada) happening, it's the month to carve out some time to commit, be present, and cherish each other's company.
As bestselling author and research professor Brené Brown says:

"Living a connected life ultimately is about setting boundaries, spending less time and energy hustling and winning over people who don't matter, and seeing the value of working on cultivating a connection with family and close friends."
4 simple ways to reconnect with your partner
To prep for Valentine's Day (and for Family Day!), the team at LOA SKIN shares some of their favourite tips on reconnecting with your partner and loved ones.
1. Share a meal together, distraction free
Who doesn't love putting on Netflix or your favourite K-drama when you're eating a meal? But to reconnect with your loved one, try putting away the phones and turning off the TV. Maybe even take out the fancy table settings and silverware for guests (if you can be bothered, it's not necessary). By taking the time to be present during mealtimes, it allows for everyone to be present and to connect about their day, and to have a deeper appreciation for the meal too.
2. Go to bed together at the same time
Now more often than not, in partnerships there's always a night-owl who thrives at night and an early bird who jumps out of bed in the morning. Personally, the LOA SKIN team loves staying up and sleeping in (whenever we get the chance to!) But if your partner tends to go to bed early, try going to bed together with them, even if it's just for one night. Studies have shown that going to bed together can help with connecting intimately and emotionally. There's a distinct calm and connection you feel when you're reading in bed with your partner (and you feel like old people) - it's nice and definitely worth a shot. 
3. Try a new class together
We get it - it's the middle of the pandemic, and it's winter, so getting out of the house and doing something fun together can seem like a challenge at times. If gyms and community centres are open in your area, try a drop-in yoga or pottery class! Our LOA SKIN tip is to really utilize your community centres. More often than not, they have some really great classes and drop-in gym activities - and some of them are even free! Not only is this a great way to reconnect and try something new with your loved ones, it's a great way to better connect with your community too. Pickleball may sound like it's for old people, but it is actually really fun. Think of a badminton-tennis hybrid. You get the fun of tennis without having to be outside!
4. Staying in? Have a spa night.
Okay, we know that this isn't exactly the most original idea, but take some time out of your movie night in to trade massages or to help each other put on a facial mask. Our LOA SKIN spa favourite is trading facial massages. We use our Antigravity Gua Sha and Botanical Recovery Serum, and take turns using the tool to glide all of that stress and facial tension away. It's not hard to learn how to do gua sha the correct way (we recommend this tutorial), and we always recommend washing the gua sha in between massages. Just be careful not to drop it though! 
And those are our favourite tips to reconnect with your loved ones more. Try one of them, try all of them. At LOA SKIN, we're fans of introducing small changes that make a big impact. Hopefully these small micro-moments of being more present with each other can help bring back a stronger connection with your partner, friends, and family.
And above all else, remember to stay kind and practice patience with one another. It's a tough world out there, but you folks have each other. 💘